Nippon Gene Material has a lineup of dry reagents. Compared with the liquid type reagents, these dry reagents realized simple operation, improved portability and stability, while maintaining the reliability. Unveiling the story focusing on the history of its development, there were spread of epidemic and researcher's challenges, and improvement in response to voices from developing countries.
This is a short story of how Nippon Gene Material Co., Ltd. developed Dry Reagents, our proprietary product.
— Phytoplasma disease
Phytoplasma is a tiny bacterium, which infects more than 1,000 plants species and causes symptoms such as yellow dwarf and witches' broom.
Although the symptoms of the disease were well known since early times, the pathogens were unknown for a long time, because these bacteria have been difficult to culture.
In 1967, Japanese researcher found that the plants which have these symptoms were infected by small bacteria called Phytoplasma, by using electron microscopy which was the most advanced equipment at that time.
Phytoplasma still gives serious damage to cassava, apple, coconut palms, etc., around the world.
Also refer: Phytoplasma
— Development of Phytoplasma universal detection kit
Once plants are infected with phytoplasma disease, it is difficult to treat, so early stage detection and disposal of infected plants are important. When the disease was first discovered, electron microscopy was the primary diagnostic method. But this method requires expert knowledge, expensive facilities, and is time requiring. Therefore, alternative methods were developed. With the breakthrough of molecular biological techniques, the PCR (Polymerase chain reaction) became mainstream. In the 2000s, LAMP (Loop-mediated Isothermal Amplification) method was developed. This method is simpler, more accurate than the PCR method, and can be performed in a short time without purchasing expensive dedicated equipment.
Incorporating the LAMP method for the diagnosis of Phytoplasma disease, the research group at University of Tokyo started to develop simpler and more accurate phytoplasma detection method. In consequence, the group succeeded in developing new "Phytoplasma Universal Detection Kit", which can comprehensively detect every variety of phytoplasma, and the kit was first commercialized by Nippon Gene*. This first kit consists of liquid type reagents for the reaction.
— Spread of Phytoplasma diseases in Papua New Guinea (PNG)
On the other hand, phytoplasma disease which spread in Bogia district of Papua New Guinea (PNG) caused the death of many coconut palm tree. In the 2010s, this threat approached the genetic resources storage facility (Gene bank), which kept precious coconut tree gene, so that prompt quarantine was a pressing issue. One researcher from National Agricultural Research Institute (NARI) in Papua New Guinea contacted Nippon Gene and ask to offer the kit to solve this issue. Finally, this kit was adopted for the "Coconut Genetic Resource Conservation Project", and commemorative ceremony was held. President Yoneda (Nippon Gene Co., Ltd.) attended this ceremony and handed over the kit to the local Minister of Agriculture and Livestock. The ceremony was broadcasted by local mass media.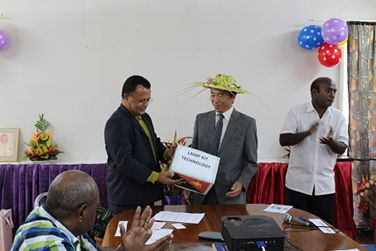 Left; Tommy Tomscoll, minister of agriculture and livestock, PNG
Right; President Yoneda, Nippon Gene Co., Ltd.
— Found disadvantages to be improved: "shipping and storage"
Phytoplasma Universal Detection Kit had a great impact for plant disease diagnosis, but some issues were highlighted at practical stage during the on-site inspections in PNG.
When President Yoneda inspected diagnostic practice on site, the test itself was fine, but he heard the local people talking that power supply is not sufficient in PNG and sometimes there were sudden or planned power outages. PNG is located near equator and is a land of everlasting summer. Liquid reagents including this kit needs a cool condition for storage, so degradation of the reagents was unavoidable under exposure to elevated temperatures.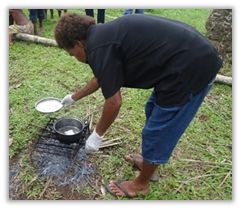 Furthermore, President Yoneda found that delivery of the kit is difficult because any carrier cannot carry dry ice from Japan to PNG.
At first, kits were brought directly from Japan by ourselves, so shipping was not a problem. However, to put the testing for continuous use, it needed proper shipping. At that time, we couldn't find proper carrier who can ship the reagents with dry ice.
And these were issues not only in PNG, but also in other developing countries.
Development of dry reagents
Therefore, Nippon Gene Material (a subsidiary of Nippon Gene) launched new project – development of dry reagents to solve these issues. This project was granted by the Toyama prefecture's Industry-Academia-Government Collaboration Promotion Project [category; advanced technology commercialization support subsidy] and jointly conducted with the University of Tokyo.
As a result, Nippon Gene Material succeeded to develop dry reagents and improved the testing kit to "-LAMP Dry Premix- Phytoplasma Universal Detection Kit". This is the first LAMP-used dry type gene diagnosis kit in plant, which realized transportation at room temperature.
In addition, previous kit was divided into three parts "detection solution", "enzyme solution", "fluorescent detection solution", but new kit includes all reagents preformulated into one tube, and further subdivided for single test. Using this new kit is easier and having fewer risk of contamination. In addition to high sensitivity and accuracy, improved portability, storage stability and simple operation are realized.
These improvements have made it possible to use this kit in developing countries with similar issues around the world, such as Solomon Islands, Oceania and Southeast Asia. Recently, we have received inquiries from South America, North America, EU, Middle East and Africa.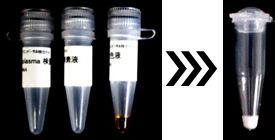 Improved point
transportation at room temperature is realized
easier operation and less contamination risk
achieved long term storage under elevated temperature
In recognition of these challenges, Nippon Gene Material received special award at the award ceremony of the 6th Toyama manufacturing award in March 2019.
Currently, Nippon Gene Material is working hard to develop new dry reagents kit and to expand its product lineup.
(for more information, please refer「 "Dry reagents" 」page)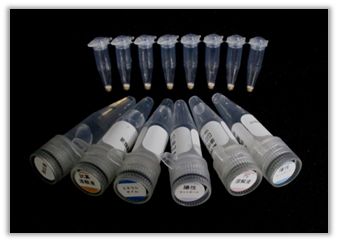 Characteristics of dry reagents kit
Shipping and storage at room temperature are possible
Packaged individually for each test and can be used immediately after dissolution
Preformulated for reducing contamination risk and human error during reaction mixture preparation
Next Deployment
Many agricultural products are lost every year due to plant diseases. For farmers, outbreak of one disease has a major impact on their welfare. Recently globalization and climate change induce the spread of plant diseases. In Japan, while self-sufficiency rate is very low, it is not something that just happens to other people.
Since the initial response is important to prevent the spread of the disease, easy and quick testing method is required. Protecting grain, vegetable and fruit from disease will contribute to SDGs (Sustainable Development Goals) goal 2, "Zero hunger", and will also relate to energy issues such as bioethanol production.
Nippon Gene Material will contribute to solve these problems by expanding dry reagents lineup. We will also launch plant disease testing services, to realize the vision of becoming a "testing center of a plant hospital".
(Featured article:Special feature 001 interview; Introducing Nippon Gene's plant disease testing kit)
*The LAMP method is patented by Eiken Chemical Co., Ltd. Nippon Gene Co., Ltd. and Nippon Gene Material Co., Ltd. are licensed to develop, manufacture, and sell Phytoplasma detection kit using the LAMP method.